The Parish offers many services and many ministries to choose from. Consider joining one of our Ministries.
FOLK BALLET
Coordinator/Coordinador: Victor Soria 773-573-6838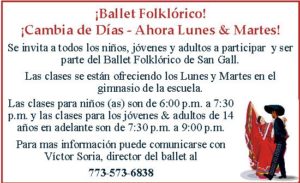 All children, youth and adults are invited to participate and be part of the Folkloric Ballet National. Everyone is welcome; we have two groups. We have the children's group for children ages 4-12 and the youth/adult group for those 13 and up.
Those interested in being part of the Mexican Ballet can come to our rehearsals. We meet every Monday and Tuesday. Children's group meets from 6:00-7:30 pm & Youth/Adult group meets from 7:30-9:00 pm.
No training is required to participate, just the desire to participate. Call Victor Soria at 773-573-6838, director of the Ballet, for more information.
Come and meet Mexico through its dance. We will wait for you!